Lauren Hayes
Lauren Hayes received a Bachelor of Music degree in Harp Performance. She studied bassoon with Dr. William Dietz as a secondary instrument. Lauren is originally from Whitewater, WI where she graduated from Fort Atkinson High School in 2010. She began playing bassoon at age 10, and throughout high school, studied with Dr. Carol Rosing. Throughout middle school and high school, she consistently received first division ratings at district and state solo festivals. At the U of A, Lauren has played in the Arizona Symphony and has been a member of the Philharmonic Orchestra along with other various trios and quartets. She has moved onto graduate school where she is pursuing a Master of Arts degree in harp performance at the Royal Academy of Music in London, United Kingdom.
Jessica Campbell
Jessica Campbell holds the position of third bassoon & contrabassoon with the Tucson Symphony Orchestra. She received her Bachelor of Music degree from Columbus (GA) State University and a Master of Music degree from Florida State University. She has performed with the Arizona Opera, Tallahassee, Albany (GA), and Columbus (GA) Symphonies, and the Springer Opera House and was principal bassoon of the Southern Arizona Symphony Orchestra. Mrs. Campbell was the first-prize winner of the Columbus State University Concerto Competition in 1999, the competition's inaugural year. She is a member of Pi Kappa Lambda, Mu Phi Epsilon, and the International Double Reed Society. Her principal teachers include Ronald Wirt, William Ludwig, Jeffrey Keesecker, and William Dietz. She has performed in master classes with Michael McCraw, John Steinmetz, Jeffrey Lyman, Robert Williams, John Hunt, and William Waterhouse.
She performs regularly with two chamber groups: The Kontra-Cor Duo and The Maderas Bassoon Quartet. Her duo, the Kontra-Cor Duo has been invited to lecture during the College Music Society's International Conference in Seoul, Korea in July of 2011. Her quartet, the Maderas Bassoon Quartet, has also been invited to perform a recital at the International Double Reed Society Conference in Tempe, AZ in May of 2011. In addition to performing, Mrs. Campbell currently teaches fifth and sixth grade band and orchestra in the Flowing Wells School District as well as a private bassoon and contrabassoon studio.
Travis Jones
Travis Jones received his undergraduate degree in Bassoon Performance from the University of Tennessee, where he studied with Keith McClelland. While at UT, Travis performed as a member of the UT Symphony and Opera Orchestras and the Wind Ensemble in addition to various chamber music ensembles. In 2011, Travis was named a winner of UT's Concerto Competition and appeared as a soloist with the University of Tennessee's Symphony Orchestra.With the UT Bassoon Ensemble, Travis performed at the 2011 International Double Reed Society conference.
Travis has performed in masterclasses taught by Kristin Wolfe Jensen and Christopher Weait, and he also studied with Saxton Rose at the Quartz Mountain Music Festival. Travis spent the summer of 2011 performing with the Pierre Monteux School Orchestra in Hancock, Maine. He received a Master's of Music degree with a concentration in Bassoon Performance at the University of Arizona studying under Dr. William Dietz.
Scott Pool
Class of 2004
Email: cspool@uta.edu
Phone: (817) 272 2484
Website: www.scottpoolbassoon.com
Scott Pool is currently the Assistant Professor of Bassoon at the University of Texas at Arlington, and is a faculty member of the Orfeo International Music Festival in Vipiteno/Sterzing, Italy where he coaches and performs chamber music.  He has performed concerts and recitals throughout North and South America and Europe, and his bassoon performances have been featured on National Public Radio and from local to national television broadcasts.
His latest recording can be heard on Landscapes:  The Double Reed Music of Daniel Baldwin.  Scott has served as principal bassoon with the Plano Symphony Orchestra (TX), the Valdosta Symphony Orchestra and the Albany (GA) Symphony Orchestra.  Prior to completing the Doctor of Musical Arts degree at the University of Arizona, Scott earned music degrees from the University of Oklahoma and the University of Central Oklahoma. He has studied with Will Dietz of Tucson, Arizona and Carl Rath of Oklahoma City, Oklahoma.
Mitch Turbenson
Mitch was a student of Dr. William Dietz at the University of Arizona. He started bassoon at the age of 14 studying with Andrew Bunch in Mesa, AZ.  He was first chair of the Metropolitan Youth Symphony for three years and the Mesa Youth Symphony Orchestra for one year.  Mitch was also invited to perform with the Mesa Symphony Orchestra.  In high school, Mitch was awarded first chair in the All-State band and competed in regionals throughout these years.  At the University of Arizona, Mitch was a member of the Philharmonic Orchestra and an undergraduate wind quintet under the direction of Dr. Neil Tatman.  He was a Flinn Scholar pursuing two majors in Classical Guitar Performance and Mathematics and a minor in Economics. Mitch is now in his first year of law school at the University of Arizona and is the Program & Events Manager for the Southern Arizona Arts & Cultural Alliance, on of the largest arts non-profit organizations in southern Arizona.
Max Yoklic
Max Yoklic, a Tucson native, studied with Dr. William Dietz. Bassoon was his first instrument which he began playing at age 9. He has studied with a number of studio members of the University of Arizona including John Rising, Scott Pool, and Dr. Dietz. He was a member of the Tucson Philharmonic Youth Orchestra for three years. Max was principal bassoon in the Philharmonic Orchestra at the University of Arizona. He has also been a member of the University of Arizona Wind Symphony and various bassoon trios and quartets. In addition to bassoon, Max is pursued majors in Biomedical Sciences and Spanish Literature.
Robert Bedont
Robert Bedont is a native of Taylorsville, Utah. He began playing the bassoon at age 12.
He earned a BM in Music Education from the University of Utah in 2003. At the University of Utah he studied conducting with Scott Hagen, and bassoon performance with Richard Chatelain. At the 'U' Robert was Drum Major for the "Pride of Utah" for two years. As a bassoonist at the 'U' he was principal bassoon for the University Philharmonia and Wind Ensemble, as well as winner of the 2000 concerto competition.
Mr. Bedont has performed professionally with the Utah Festival Opera Company, the Grand Theatre in Salt Lake City, Salt Lake Symphony, Mormon Youth Symphony, and has soloed with the Utah Philharmonia and the West Valley Symphony.
Robert earned a Master's degree in bassoon performance from the University of Arizona in 2010. Currently he is a DMA candidate at the UA studying with Dr. William Dietz. In addition to his studies he serves as a graduate teaching assistant, and has played in the Arizona Symphony, Wind Ensemble, Philharmonic Orchestra, the Amici Wind Quintet, and the Sonoran Wind quintet. Robert has also performed at the 2009 Bay View Music Festival.
Carol McNabb Goodwin
Class of 1996
Email: carol.mcnabb@utb.edu
Phone: (956) 882-7528

Carol McNabb Goodwin is an associate professor of double reeds, music theory, and aural skills at the University of Texas Brownsville, where she has taught since 1999.  She has had the honor of selecting the Texas All-State bassoon audition music and has performed and lectured at Texas Music Educators Association conventions and College Music Society conferences. She  will premier a work for woodwind trio at the 2011 NACWPI national convention.
She has performed in the Fort Worth Symphony and Opera orchestras, the Shreveport Symphony,the Tucson Symphony, and the Arizona Music Festival.  She currently performs in the Rio Grande Valley Symphony and is an active recitalist and chamber musician.  She holds degrees in bassoon performance from the University of North Texas, the University of Louisiana Monroe, and the University of Arizona.
Maralyn Sommer
Years at the University of Arizona: 1985-1990
Maralyn Sommer attended UA from 1985-1989 where she completed a DMA in performance. She played bassoon for the Arizona Opera Company in addition to playing in the UA orchestra, graduate wind quintet, and wind ensemble. She began her career at Henderson State University in Arkansas in the fall of 1990 as chair of the music department. In 1998 she became associate dean of arts and sciences and quickly moved to the position as Dean of Arts and Sciences, a position she held for twelve years. She ended her career as interim Provost and Vice President for Academic Affairs before retiring in June, 2014. As an administrator she continued to teach bassoon and play in area ensembles. She currently plays bassoon with the Henderson State University Faculty Woodwind Quintet where she also teaches as adjunct professor of bassoon, and is principal bassoonist with the Little Rock Wind Symphony.
"I loved studying bassoon with Dr. Dietz and attribute many of my successes to his mentorship. He was always very supportive and gave me so many opportunities to grow. In looking back, what I loved most was that he didn't let me get away with anything. He expected a lot and in return I worked very hard to meet his expectations. I would not have had the many successes I have enjoyed over the years had he not pushed me to be my best. Today I am forever grateful for his teaching and friendship."
Chris Harshman
Years of Study at the U of A: 1985-1987
Currently entering his 27th year of teaching Band and Jazz Ensemble in the Seattle area. Current Bassoon positions include: Saratoga Orchestra – Principal, Island Consort – Bassoon and Baroque Bassoon, Seattle area freelance: Bassoon, Saxophone.
Contact charshman@sw.wednet.edu
Comments: I feel very fortunate to have studied with Will Dietz. As my career progressed, I continued to recognize how much confidence I gained in his studio. I appreciate the sincerity Dr. Dietz brings to his work, and dedication to each of his students.
April Delgado
April Delgado, a Southern California native, started playing flute and piccolo in 6th grade, and eventually switched to bassoon in her sophomore year at Etiwanda High School. In high school, April participated in several honor bands and ensembles (including the San Bernardino County Honor Band), received numerous awards for performance, and eventually received two scholarships to California State University Fullerton for music performance. At California State University Fullerton, April studied under the direction of bassoonist Andrew Radford and performed with their Symphonic Band and Wind Ensemble for three years. After a hiatus from performing, and after falling in love with the City of Tucson while on vacation, April decided to transfer to the University of Arizona, as a senior in music performance. In addition to her music studies, April obtained an Associate of Sciences Degree in Paralegal Studies from Fullerton College in 2006, and continued her education at California State University San Bernardino in Political Science from 2006 through 2010. April is currently employed as a paralegal, and has worked with nationally renowned American Bar Association accredited law firms.
In California, April performed with several music ensembles, including the Claremont Symphony Orchestra, the Orange County Wind Ensemble, and the Huntington Beach Concert Band. In May 2011, April was invited to perform with the Pacific Symphony in Costa Mesa, California, for the successful "OC Can You Play With Us" performance of Mussorgsky's "Pictures at an Exhibition".
In Tucson, while attending the University of Arizona, April was been a proud member of the University's Wind Symphony and the University Philharmonic Orchestra. In addition to performing with the University ensembles in Tucson, April is a member of the Sonora Winds, Green Valley Concert Band, and the Civic Orchestra of Tucson.
Alisa Mastin
Years at the University of Arizona: 2005-2009
Email: alisammastin@gmail.com
Alisa Mastin graduated from the University of Arizona in 2009 with a double major in Bassoon Performance and Music Education. She currently teaches 5th-8th grade band and strings in the Peoria Unified School District. She also teaches privately and performs with various community groups in the Phoenix area, such as the GCC Community Band and the North Valley Symphony Orchestra.
Lisa Renteria
Lisa Renteria
Years of Study at the U of A: 1994-1998 and 2001-2007
Email: graciebear25@hotmail.com
Phone: (520) 975 3824
Lisa Renteria, bassoonist, holds a Bachelor of Music degree in performance from the University of Arizona, a Master of Music degree from the Eastman School of Music in Rochester, NY and a Doctorate in Musical Arts from The University of Arizona. She has won numerous performance competitions including the Tucson Symphony Young Artists Competition and University of Arizona Concerto Competition.  In 2003, after winning both the state and regional levels, Dr. Renteria was a national finalist in the Music Teachers National Association Competition.
She currently plays with the Tucson Pops Orchestra and occasionally has the opportunity to perform with the Tucson Symphony Orchestra as well as many other local ensembles. Her past teachers include Dr. William Dietz of the University of Arizona, Paul Rafanelli of the Seattle Symphony, and John Hunt of the Eastman School of music. She maintains a private studio and teaches music theory to young students enrolled in the Arizona Study Program.
Dr. Renteria has had the wonderful opportunity to work in the Opening Minds through the Arts (OMA) program since 2001.  She teaches in the kindergarten classrooms as part of an instrumental trio using music as a tool to teach the curriculum.
Cori Urquhart
Years at the University of Arizona: 1988-1992
Currently in her 18th year of teaching band.  She teaches 6th grade beginning at four elementary campuses in the Austin Independent School District.
Fernando Zúñiga-Chanto
Born in Costa Rica, Fernando Zúñiga is equally at home when playing bassoon or piano. Sought after as a collaborative pianist, orchestral bassoonist, and chamber musician both in bassoon and piano, Fernando's international appearances include the International Double Reed Society Conferences in Buenos Aires, Argentina (2000), Austin, Texas (2005), and Ithaca, New York (2007), as a member of the Phoenix Bassoon Quartet of Costa Rica. He has also toured with wind quintets in Nicaragua and Costa Rica, and he toured Spain as a member of the Orquesta Sinfónica Juvenil de Costa Rica.
Currently, Fernando teaches at the Universidad de Costa Rica, is a member of the Phoenix Bassoon Quartet of Costa Rica, and is principal bassoon in the Orquesta de Camara UCR.
fernanz@email.arizona.edu
z_fernando@hotmail.com
www.fernandobassoon.wordpress.com
(520) 258 9180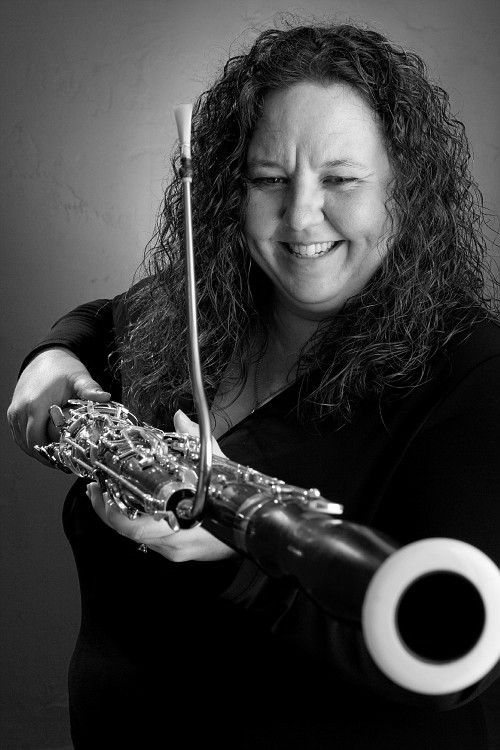 Cassandra Bendickson
Class of 1999 and 2011
Cassandra Bendickson is a freelance bassoonist living in beautiful Tucson, Arizona and has been playing professionally since 1998. She holds a Masters in Bassoon Performance from the University of Arizona and has held principal positions with the Southern Arizona Symphony Orchestra, Civic Orchestra of Tucson, Catalina Chamber Orchestra, Tucson Chamber Orchestra, and the Bella Carita Chamber Ensemble and has also performed with the St. Francis & Clare Theatre Ensemble, Tucson Pops Orchestra, the Tucson Symphony Orchestra, and Celtic Woman's "Winter Wonderland 2012" tour.
An avid chamber musician, Cassandra regularly appears on the St. Philip's Friends of Music programs  and in smaller groups, such as the Maderas Bassoon Quartet, Trio Desta, the Zephyrus Reed Trio, Zephyrus Quintet & Septet, and in the Garage Classical series known as "ChamberLab", as one of three fabulous bassoonists performing new works in non-traditional spaces.  Cassandra has also been blessed to have been included in concerts to benefit such organizations as the St. Philip's Summer Music Program (Bassoons and Oboes of the Old Pueblo, or BOOP), Imago Dei Middle School, Southern Arizona Aids Foundation, and the Academy for Cancer Wellness. She has been a Teaching Artist, weaving classical music into elementary curriculum, for the last seven years and enjoys any opportunity to bring music to audiences of all ages.
Maria Jeleztcheva Wildhaber
Years of Study at the U of A: 1998-2002
Email: contact@mjwmusic.com
Website:  www.mjwmusic.com
Bulgarian – born bassoonist Maria Jeleztcheva Wildhaber started taking piano lessons at the age of six and three years later began studying the bassoon. In 1998, she graduated from the music school in her hometown Burgas, on the Black Sea coast. The same year she began her studies in bassoon performance with full scholarship at the University of Arizona with Dr William Dietz. In 2002, she continued with her Master of Music at Yale University, followed by her Doctor of Musical Arts at State University of New York at Stony Brook where she studied with Prof. Frank Morelli.
As an avid orchestra and chamber musician she has collaborated with acclaimed artists such as Pierre Boulez, James Levine, Gustavo Dudamel, Christoph von Dohnanyi, Michael Tilson Thomas, Julian Rachlin, Joshua Bell, Angela Hewitt, Julian Biss, Neil Black, Eli Eban and William Winstead.
In 2010 she released her debut CD 'Song to my Love' on MSR Classics. The recording features Bulgarian Folk Songs and Dances that she arranged for Solo Bassoon and Piano. It was praised as "very impressive and highly recommended" by the Baker & Taylor CD Hotlist, " a fantastic release…" by Fanfare Magazine and as"…most seductive…" by Gramophone Magazine.
Maria is part of the Verbier Festival Chamber Orchestra under Gabor Takacs and the East Coast Contemporary Ensemble, where she acts as the Executive Director and Principal Bassoonist. Maria serves at the chamber music faculty at the 92nd Street Y School of Music in New York City and Kinhaven Music School in Weston, Vermont.
In 2011 her engagements include a world premier of Gilbert Galindo's Trio for violin, bassoon and piano," A Path Out of Chaos" in New York City, solo recital and master class at the University of Texas at Arlington, chamber music recital at Concerts at One Series in New York City, solo recital in St. Gallen, Switzerland as well as performances with the East Coast Contemporary Ensemble (ECCE) at Etchings: Festival for Contemporary Music in France and the Verbier Festival Chamber Orchestra in Switzerland.
Were you a member of the the UA bassoon studio?
Let us know what you are doing now, and if you're still playing the bassoon!